Productivity Challenge 2016
It's that time of year again! Yes, I'm back for the sixth year with my Productivity Challenge, and this time I am anxious to bringing you the very best challenge you can imagine. Whether you are an aspiring online entrepreneur or a seasoned one you will find this year's productivity challenge 2016 to be both meaningful and a worthwhile use of your time and efforts. This time it will be a 30 day challenge so that you will get the most from it during the next month.
Day 1 – Today I want you to make a list of your digital assets. By this I mean anything you have created out of electrons that is available on the internet for others to see, use, learn from, purchase, or recommend. For example, a list of my digital assets would include:
Books for sale on Amazon – I have more than a dozen non-fiction books (paperback and Kindle) I have either written or contributed to, as well as one in a different genre that was completely outsourced. All of these books bring me regular income, build my list, and increase my credibility and visibility in the field of online marketing.
Information Products – I have more than fifty of these currently and increase them regularly. During this challenge we will discuss how to quickly create products to add to your online inventory.
Online Training Courses – These are my favorite to create and teach. Because I was a classroom teacher for twenty years I'm always looking for ways to share my knowledge and expertise with others. This year I started my "Really Simple" branding and product/course line and committed to creating eight new online trainings during 2016.
Podcasts – I have two series, one where I interview others and one where I teach various aspects of online marketing. Both are available as subscriptions on iTunes.
Niche Sites – These are sites on various topics that recommend affiliate products.
My Mentor Programs – I offer an Online Marketing Incubator, as well as a Platinum Mastermind Mentor Program.
Live Events – Twice a year I bring people together for a three day live event on some aspect of online marketing. Most recently these have been branded as "Weekend Marketer Live!"
Affiliate Recommendations – I have thousands of links to affiliate offers within the content I publish regularly.
Your own affiliate program – I have about two hundred affiliates recommending my products, courses, and events regularly. Let me know if you are interested in becoming my affiliate.
Short reports, blogs, teleseminars, webinars, press releases, social media profiles, slide presentations, and more – This is content you have available online for your prospects to find, primarily by keyword but also through connections and relationships. This builds your credibility and visibility over time.
I'm not including physical products in this list, primarily because the Productivity Challenge 2016 is geared towards digital assets, with the exception of my books that are also available as paperback editions.
Are you surprised by how much or how little is on your list of digital assets? Commit to increasing this exponentially over the next thirty days.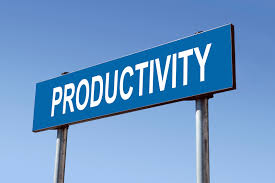 Day 2 – What's for sale? This is the magic question I ask my students regularly. You must fill your virtual shelves with digital inventory, and you own products, courses, programs, and events will always serve you most effectively. Think about what you currently have available for sale online, and what you would like to offer during the next month, six months, and within a year. How will you get from where you are today to closer to where you would like to be? Who and what do you need to make this possible? Are you as productive each day as you would like to be? Why or why not?
Day 3 – Are you working with a Mentor? I had a mentor during my first year online, and even though we were not the right fit for each other I saw the value in this concept. I went on to work with several mentors over the years, and currently I work with two – one is an online marketing expert and the other is a venture capitalist. What is your position on this topic?
Please join us with Productivity Challenge 2016 by leaving a comment below about anything I've discussed so far.