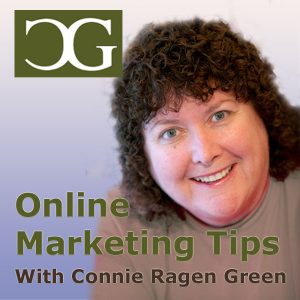 In this ninth episode of Online Marketing Tips Podcast With Connie Ragen Green, my newest podcast series, I discuss how to use PLR – private label rights – content to build your online business. This is content you purchase from a reputable source to repurpose into many different formats, including but not limited to blog posts, short reports, audios, videos, podcasts, eBooks, eCourses, and autoresponder messages. I have done this successfully for about six years now. my students are also building their businesses much more quickly using PLR, and this continues to be one of the monetization strategies that work well for online entrepreneurs.
I also answer questions on a variety of topics related to entrepreneurship, setting up your hosted WordPress site, passive versus residual income, affiliate marketing and online business success, identifying your target market, how to become my affiliate to promote my products and courses for lifetime commission, saving and backing up your files, launching your information products, and much more.
Also, you can now pick up my training on winning affiliate contests for only seven dollars at Affiliate Contest Secrets.
Be sure to download your Study Guide to follow along with the podcast. I always create these to give you a frame of reference as to what I am discussing during that episode, as well as to share valuable resources and online marketing tips with you.
Be sure to subscribe to this new podcast series over at iTunes